Home
> About Us > Company News > Sinopec Kantons was awarded "Best Team Spirit Bronze Prize- Country Challenge"
Sinopec Kantons was awarded "Best Team Spirit Bronze Prize- Country Challenge"
The fourteenth Hong Kong Cleanup's award ceremony and wrap party was held at Central on Monday (25 November 2014). In recognizing our company's outstanding team spirit, strong unity and our efforts in executing our social responsibility work, the organizer, Hong Kong CleanUp, has selected the company out of 418 participating teams awarding us "2014 Best Team Spirit Bronze Prize".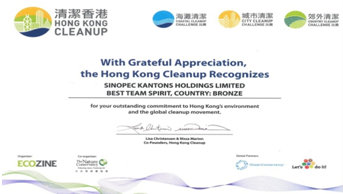 2014 Best Team Spirit Bronze Prize
About 50,000 people in 418 teams have participated in this Hong Kong Clean Up Challenge cleaning up approximately 1847 thousand meters long of the countryside. The Challenge has collected 3.89 million kilogram of waste (approximately 4.43 million items) marking an outstanding effort in making a better environment in the countryside of Hong Kong.
Staff members of Sinopec Kantons attended the award ceremony
As a leading company that balances social and economic benefits, Sinopec Kantons creates shareholders values. In the same time, the company actively adheres to and carries out responsibilities on the staff, society and environment.